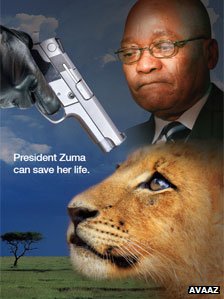 Does the idea of murdered cats get you hot? If by "hot" you mean "angry," we're inclined to agree — and, thankfully, so are the African courts.
For decades, tigers were slaughtered because their bones were highly valued by certain  manufacturers of "male sex enhancement" products for the Asian market. Bones, fierce animals… we trust you get the idea. But international outrage over these practices resulted in laws  passed to protect endangered tigers. Since then, the focus of the dubious trade has turned to other "manly" animals.
According to Avaaz, which has been active in campaigning to protect the rapidly-declining lion population in Africa:
Lions are farmed under appalling conditions in South Africa for "canned hunting," where rich tourists pay thousands to shoot them through fences. Now experts say lion bones from these killing farms are being exported to phony 'medicine' makers in Asia for record profits. Trade is exploding and experts fear that as prices rise, even wild lions — with only 20,000 left in Africa — will come under poaching attack.

… There is a solution: banning and punishing the trade of lion bones and organs. South Africa is currently the largest exporter of lion trophies, bones and organs — it is also the only African country actively breeding lions in large numbers to supply trophy hunting.
Avaaz placed awareness posters and ads in airports in South Africa, but these were quickly taken down by the government. Avaaz then challenged the decision, and the courts ruled that the censorship was inappropriate and ordered the ads to be restored.
But the battled continues. So far, South African President Jacob Zuma has refused to take action to stop the lion slaughter. According to Avaaz:
But if we can show that allowing this senseless trade can hurt South Africa's booming tourism industry and make visitors flee, president Zuma could be forced to act.
Follow the link below to add your name to the voices of concern and send a letter to President  Zuma and Environment Minister Edna Molewa asking them to put a stop to the brutal trade in lion bones and other body parts:
http://www.avaaz.org/en/stop_lion_slaughter_for_sex_aides_rb_en/